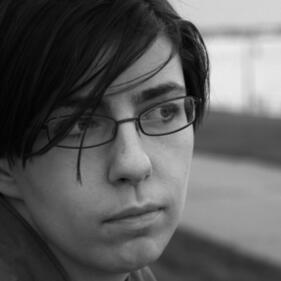 A. Jordan Draves
Reader Services Librarian
at the Boston Public Library
Librarian since 2008.
Favorite genre: While I read a wide variety of fiction and nonfiction, M/M Romance mixed with mystery, fantasy, or sci-fi elements is my favorite.
Volunteering: I've been a Municipal Liaison with National Novel Writing Month since 2006.
Hobbies: Writing fanfiction for Person of Interest.
Pets: An adopted Greyhound named Adrien.
Neurodiversity: ADHD. I keep myself organized with Todoist!
Pronouns: she/they - I am agender & asexual.
So what do I do at the library?
---
The Fantastic Books and Where
to Find Them Book Group
A Boston Public Library book group geared toward young adults in their 20s & 30s that reads a wide variety of fiction and nonfiction.
We meet the 4th Tuesday of every month at 6pm at the Central Library in Copley Square. Due to the pandemic we are now meeting online via a video chat platform.

Check the calendar for what we're reading next and email me if you're interested in joining us.
Check out the booklists in the library catalog to see what we've been reading!
See what our members have been reading outside of our book discussions!
We have a Goodreads Group for voting on our next reads. Please note that you must attend a book discussion before you can join the GR group.
Learn To Write Fiction
Learning Circles
Learning Circles are free online courses lightly facilitated in a community space or public library. Bringing them into a physical space where learners can help each other learn means a greater chance of completion, success, and fun!

In 2017 I created and facilitated my first Learning Circle, the Learn To Write Fiction: Beginner Course. Since then I have also created two more courses on World-Building and Writing a Series and I facilitate 1-2 every year as my schedule allows.
Check the calendar for upcoming
LTWF courses facilitated at the BPL.
Learn more about P2PU and see the wide variety of courses available for free around the world!
Printed Booklists
I chair the committees that put these annual printed booklists together.
We Are Pride
This is a list of books published in the previous year for all ages concerning the diverse experiences of the LGBTQ+ community. This printing is part of the Boston Public Library's annual observance of Pride Month.
Native Lives, Native Stories
This booklist will be in observance of Native American Heritage Month, but is not yet off the ground. More information will be provided here, when/if that happens.
Online Booklists
My Online Booklists
Here are all the booklists I put together from mental health memoirs to fantasy novels set in educational institutions, and everything in between!
BPL Staff Picks
I coordinate and put together the booklists of BPL staff recommended titles every month. Check them out, there are a lot of great titles here!